Best Apple music making apps (iOS / iPad)
---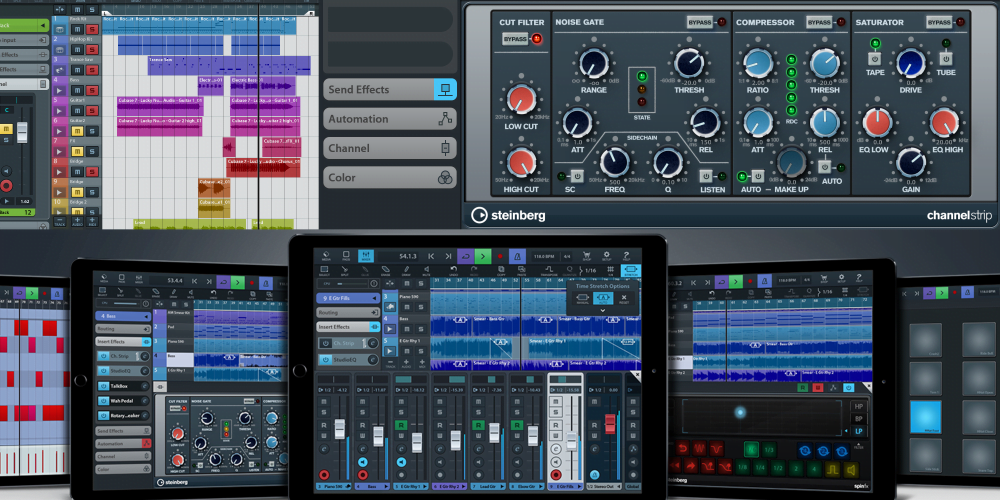 Mobile apps are fantastic for music production. Being able to compose a melody or mix a song on the go is really easy now!
Whenever you feel inspired and you are out of the studio, it's very simple to take your phone or tablet and start creating a new song. If you have a synth line in your head or you need to simple record some sounds or a live performance and then mix it into your main track back in the studio – a music-making app can be very helpful.
Many of these music-making applications include many features like a full DAW but run on Android and iOS offering you full mobility.
1.Cubasis 2
With Cubasis 2, Steinberg is one of the most powerful audio and MIDI sequencer for the iPad. The DAW impresses with high sound quality, professional equipment as well as extensive import and export functions. The mobile variant comes closer to the DAW flagship Cubase. Timestretching, pitch-shifting, spin FX, a channel strip, and a revised interface to ensure more intuitive operation comes with this second version. You can use the Cubase Project Importer to import Cubasis projects created on the iPad into Cubase on your computer.
Official Website: Cubasis 2
2.GARAGEBAND
Apple's Garageband classic music production software has now become a powerful audio and MIDI sequencer app with up to 32 tracks, high-quality instruments, and effects. With the Live Loops feature you can simply mix and match loops and add audio effects in real-time.
Also, you can plug and record a real instrument and then add it into your mix. With Garageband, you can create music wherever you are, add notes and lyrics using the included notebook or even create some new ringtones at lunchtime. It's fun and easy to use!
PROS
Export/upload to YouTube, SoundCloud, etc.
Great introduction to workflow in Logic
Auv3 compatible
Surprisingly Deep functionality
CONS
32 Tracks max
Limited mastering plugins
No Ableton Link
No real mixer
Sluggish performance when multiple instruments or auv3 plugins are played back
Official Website: Garageband
3.FL Studio Mobile 3
Image-Line has made a mobile version of their full DAW in order to cater to the most dedicated Fruity Loops users. Whether you're a fan of creating on-the-go or need a place to put down ideas before sitting down at your PC, the mobile app is a fully-functional studio built to get you producing as quickly as possible.
Within the app, there are over 133 instruments, 10 effects, and up to 99 tracks. You can sample and record within the app using an iPad compatible or built-in microphone. Tracks can be exported directly within the app via standard cloud service or by email. Moreover, it's compatible with a number of midi devices, so if you need a little more room to create, you're able to do so externally.
Users loved FL Mobile Studio's level of convenience and wide array of built-in instruments, however, some had issues with the app being able to handle a large number of tracks at once. That being said, it's important to optimize your tablet hardware when shopping with music production in mind. Overall, the app is more than affordable for offering the flexibility of a completely independent DAW workstation.
4.Audio Evolution Mobile Studio (Android & iOS)
At an affordable price, you get an easy-to-use audio and MIDI sequencer – the Audio Evolution Mobile Studio. This app also provides unlimited audio tracks, only the memory of your Android device may push a barrier here. The processing possibilities range from simple sound refinement through the fast mixing up to the sketching of songs.
The Audio Evolution Mobile Studio app gives you a variety of tools to help you make your musical work as you wish. For each track, adjust the volume, effects, equalizer, and balance settings. The included metronome will always keep you intact.
Official Website: Audio Evolution Mobile Studio
5.BLOCS WAVE (AMPLIFY)
It's beautifully designed and aimed at building musical ideas extremely quickly.  Essentially, Blocs Wave is a loop manager/browser that aims to discover similar sounds swiftly and build ideas based on set tempo and key, or you can browse by genre.
Play with touchable waveforms and build loops in real-time with your voice, your instrument of choice, built-in sounds, or Auv3 plugins via Audiobus.
The addition of the loop start marker allows you to offset the start time of a sample and create some cool rhythmic variations. The looping capabilities of Blocs Wave alone are powerful enough to build a set from live looping, in conjunction with launchpad, Groovebox, or Circuit, to cue and control transport functions.
The Pro bundle greatly opens up the possibilities of creation, with bundled effects that include EQ, sample slicer, and audio import to use your own melodies and drum tracks recorded from other apps or sound sources.
PROS
Ableton Link
Export to Launchpad for remixing or live performance
Supports Audiobus, Audioshare, AudioCopy
Real-time stretching (change tempo while playing)
Key Aware – all loops stay in key with each other
CONS
Overall experience is very much based on your own library of samples, the samples you can create, or the samples you purchase in-app.
Pro Features cost extra and without EQ'ing, importing, and slicing your samples, the app is fairly limited.
No effects other than EQ.
Download Blocs Wave from App Store
6. ZENBEATS (ROLAND)
9 BASIC MODULES INCLUDING ITS DRIVING FORCE, THE SAMPLEVERSE, ROLAND'S FAMOUS TR707, TR808, TR909 AND MORE
Formerly known as Stagelight, they have since been acquired from Open Labs by Roland and its team. Roland's CEO, Jun-Ichi Miki, states "[we strive] to inspire the enjoyment of creativity for everyone. With Zenbeats, anyone can enjoy casual music making."
Zenbeats runs cross-platform and is free to access on iOS, Android, ChromeOS, Windows, and Mac OS devices. This DAW is designed for making beats and pieces of tracks quickly on-the-fly.
The free version features 9 basic modules including its driving force, the Sampleverse, Roland's famous TR707, TR808, TR909 kit, and some excellent sounding instruments that are great starting points to complete stripped down productions.
PROS
Slimline, modern DAW
Cross-platform
Ableton Link
Cloud Support
Auv3 compability
Bluetooth Midi
Customizable color schemes
MPE Compability
CONS
Unlocking Zenbeats Ultimate costs a premium fee
Garnered for relatively only certain types of production styles (but it's the user, not the tool, right?)
Not enough mixing/mastering tools
Download roland zenbeats from App Store
7. FIGURE (PROPELLERHEAD)
A PERFORMATIVE MOBILE INTERPRETATION OF REASON
Intuitive in its use, the app is stripped down to three sound sources based on presets from Reason's Kong and Thor synthesizer. Rhythmic integration is automatically enabled but can be disabled for all you no-quantize heads. It is very difficult if not impossible to finish a full song in Figure alone; it is by no means a DAW. Mass appeal for the app has spawned a Facebook called "FigureAddicted" in which users promote hacks to use figure sounds and finalize in other apps such as Loopy HD, AUM, Cubasis, GarageBand, etc.
PROS
Real-time pattern automation
Clear interface
Compatible with AudioCopy and Audiobus
Export to Soundcloud
CONS
Limited to 3 sound sources
Only playable in Portrait Mode
No facility to share your creations in any format
Inability to use midi keyboard with Camera connection kit
No EQ function
Garnered for only certain types of electronic music production
Download Figure from App Store
8. IMASCHINE 2
PERFECT FOR BEATMAKERS WHO WANT ACCESS TO PRO SOUNDS, AND ANYONE WHO WANTS TO COLLABORATE WITH OTHERS EASILY.
iMaschine 2 from Native Instruments is an intuitive and easy to use beat and song making app. With 16 pads, a keyboard, and hundreds of sounds, iMaschine 2 is a great option for music makers who want access to pro sounds but need portability.
The app is priced at $9.99 but you'll also be able to purchase drum sounds, samples and more from renowned sound designers. To get you going, iMaschine 2 comes with 38 drums kits and 750 samples.
Download iMaschine 2 on the iOS App Store.
9. MUSIC MAKER JAM
SUITED FOR MUSIC MAKERS LEANING TOWARDS HIP HOP, TRAP, RNB AND POP WHO WANT TO SHARE THEIR MUSIC WITH THE WORLD.
JAM is global music-making community that want to make it easy to create, share, and make music.
Their music maker app allows you to create loops, edit samples and add effects in real-time. You can choose your style from hundreds of genres and even remix other (as JAM put it) "hot artist's" tracks.
You need to subscribe for some content, which seems fair enough, but a trial version is available for you to check out before buying.
Music Maker JAM is currently free of charge on the iOS App Store.
10.n-Track Studio Pro (Android & iOS)
If you're looking for another portable DAW, N-Track Studio is a great option. The software is geared towards audio professionals and comes with a bunch of stock plugins to help you craft a perfect mix.
N-Track Studio DAW may be best suited for musicians creating acoustic or more live-sounding recordings. The DAW comes with a couple of plugins made to act as middlemen between your guitar input and device, along with some vocal tuners and live-sounding drum kits.
You can have an unlimited amount of tracks and edit MIDI within N-Track. There's also a sequencer and piano roll if you're looking to create more electronic type music. If the built-in instruments don't satisfy your cravings, there's also an online store of which you can purchase online bundles from.
Notably, N-Track also has a powerful bus feature, so importing audio from outside the app is no hassle at all. User's loved N-Track's simplicity and found it to be a great introductory DAW, but some more experienced producers wished that there were more stock instruments in plugins. Luckily, N-Track Studio is one of the few DAWs that offers an affordable monthly subscription service as opposed to a one-time fee, so you might as well try this one out as you can always back out if it doesn't work for you.
---